Wine fridge and coolers are more than just some storage space for your favorite beverage. They come in all shapes and sizes but that's not all due to aesthetics but also for function and design. Here are some of the best narrow wine fridges that you may consider buying this year.
Best Narrow Wine Fridge Product Reviews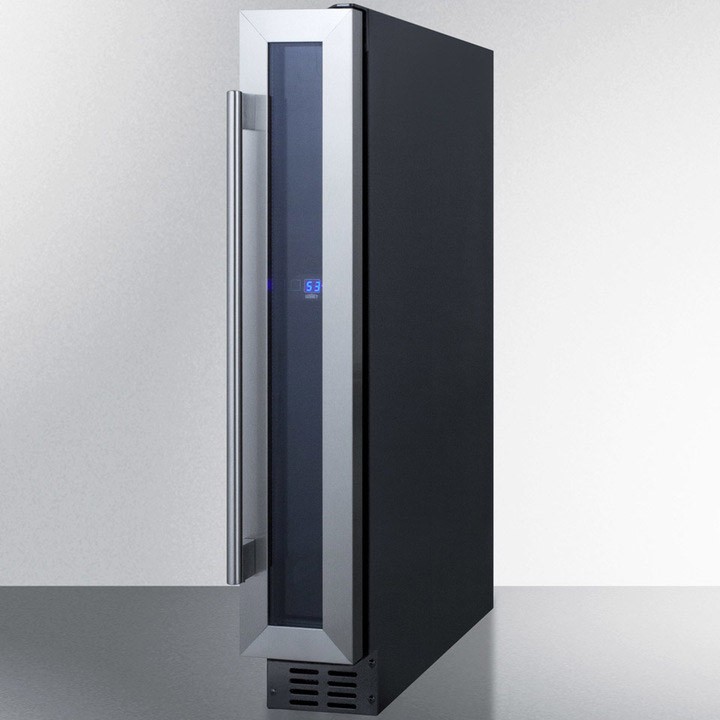 Dimensions: 32.25 H x 5.88 W x 20.75 D in.
Let's start our review for the best narrow wine fridge with the narrowest model on our list. We're talking about the sleek and efficient Summit 7 Bottle Built-In Under Counter Wine Cooler.
If you just want to keep a few bottles ready and cooled at any given time and don't have much space to begin with then this unit can handle all your needs.
Clocking in at a 7 bottle capacity, this unit can accommodate the fewest among all the models we will review but definitely one of the most if you base it on the space in needs to occupy. Meaning it yields a pretty good ratio in terms of bottles to inches of space.
This unit has a front vent with stainless steel trimmed door. It's got digital controls as well as LED lighting and comes with a Sabbath mode meant to disable lights as well as alarms for 96 hours.
You will have open bottle storage as the unit is angled that you may leave uncorked wines in it with an efficient fan cooling system that will distribute that cool air evenly. This compressor cooled unit also has an open door alarm.
It's got a right angle plus and a flush back for extra space and easy cleaning. This unit is 100% CFC free and is guaranteed to be eco-friendly.
This unit is only 5.88 inches wide but is 32.25 inches tall making it ideal for a very narrow area on your kitchen that would otherwise be just wasted space.
---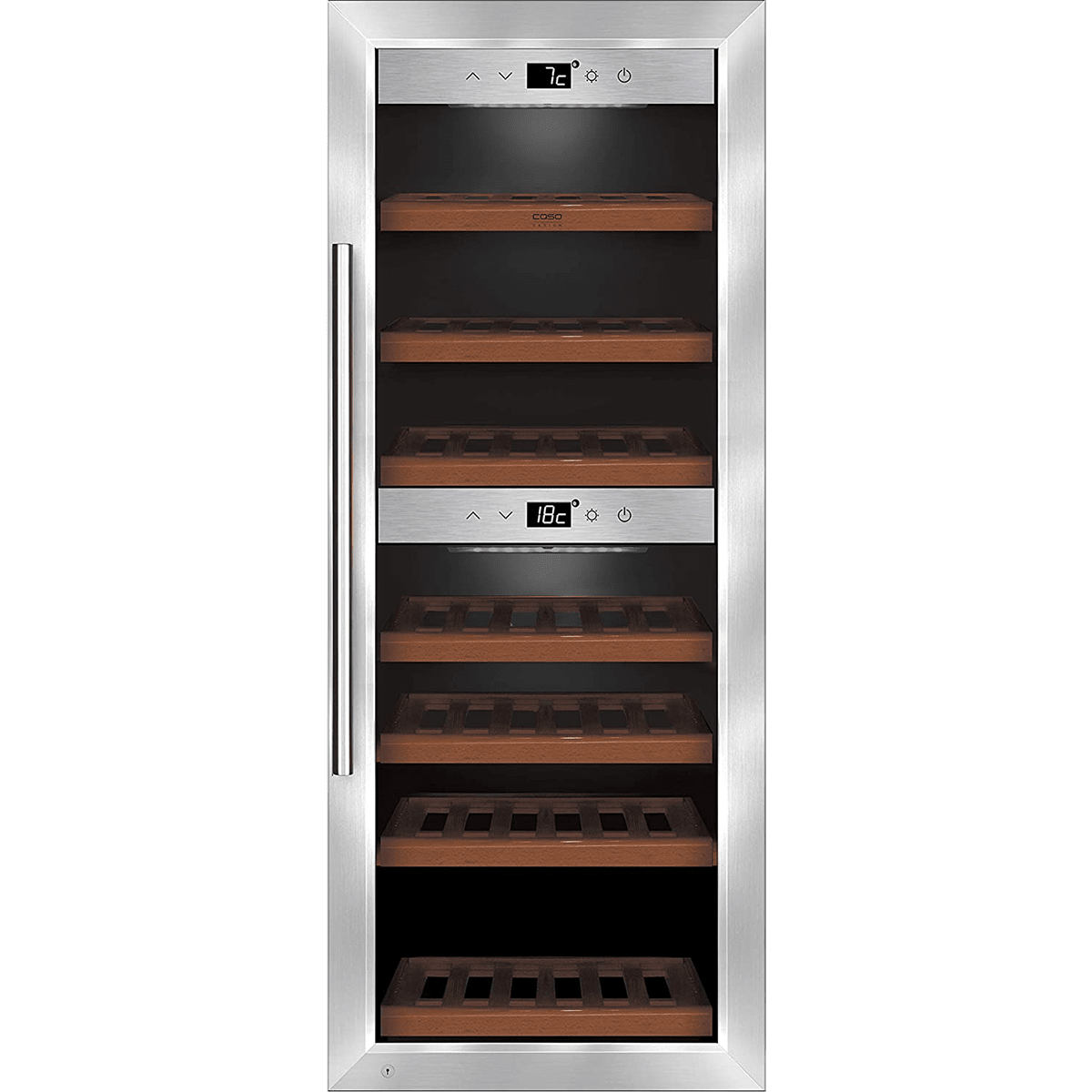 Dimensions: 40.75 H x 15.55 W x 24.8 D in.
From a unit that can accommodate the least number of wine bottles, let's discuss the narrow wine cooler that can accommodate the most. We're talking about the Caso Design 38 Bottle Dual Zone Wine Cooler.
Chill your red and white wines separately with this dual zoned wine cooler. Chill your whites for as low as 43 degrees F if you want to. You will also have a separate touch control sensor panel for each zone for the best results.
Caso is German-engineered and that means you'll get dependable cooling with its precision. It doesn't just have quiet compressors but also super quiet fans to ensure equal circulation within it. You will have a temperature range of 41 to 68 degrees F.
You can also be sure that this unit is sturdy plus it looks stunning in stainless steel and will surely add a little bit more flair to your kitchen. It's got triple layer insulation with UV filter ensuring no harmful light gets in and alter the integrity of your wine.
The doors are ergonomic and keyed lock plus the unit has elegant shelves made of wood that will effortlessly hold your bottles securely. It's got vibration reducing feet, interior lighting, sensor touch control, and leveling leg for stability.
---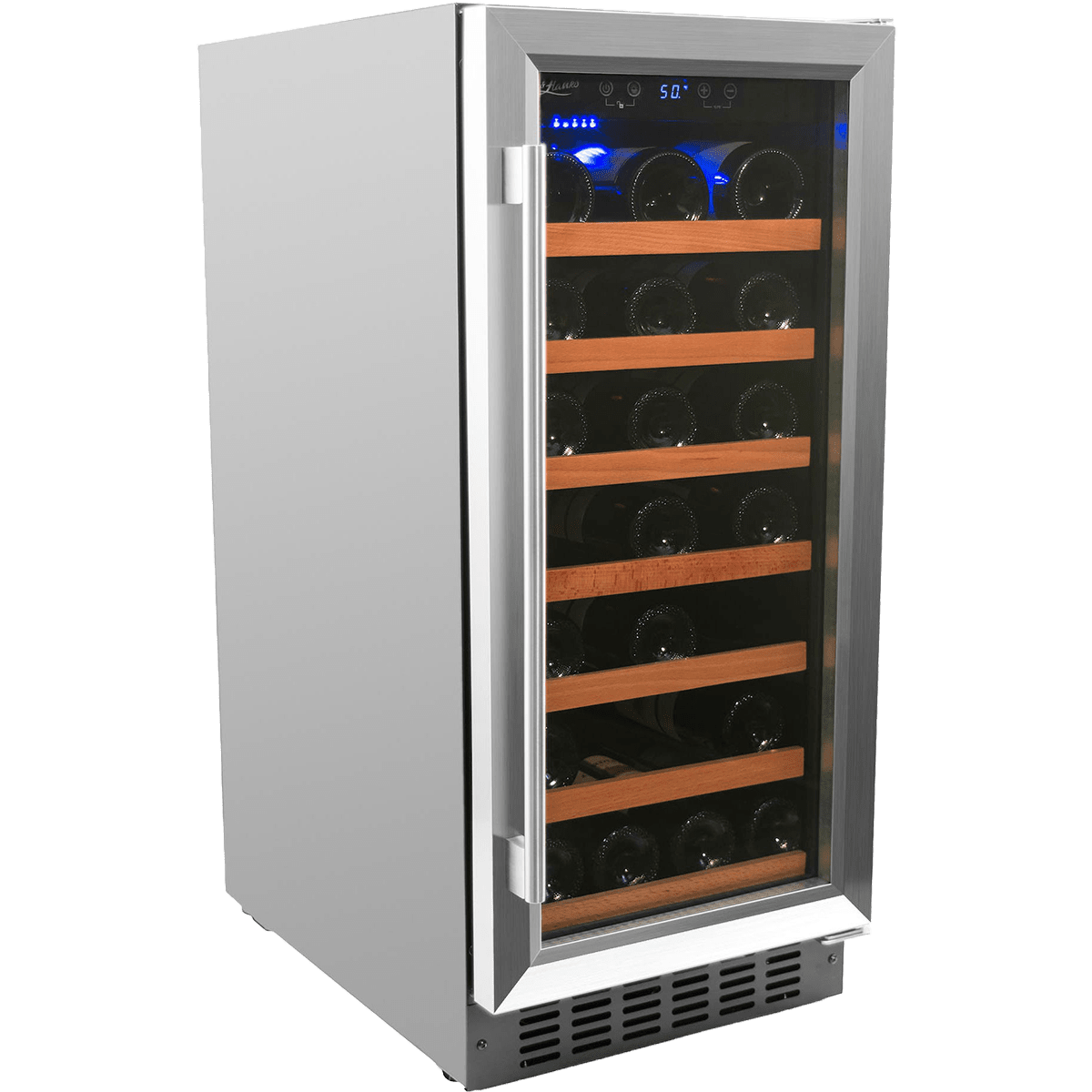 Dimensions: 15 W x 23 D x 34 H in.
Next on our list is the stylish Smith & Hanks 34 Bottle Single Zone, Wine Cooler.
This is a single zone unit that can accommodate a whopping 34 bottles even in a narrow design. It's a trimmed unit meant for maximum efficiency in terms of function and space.
It's got an innovative air management system that makes sure to provide the ideal environment for your bottles by either cooling or warming them up when necessary. Your corks won't dry out either as humidity is continuously recycled.
This eco-friendly unit has a temp range of 41 to 66 degrees F and is protected by a tempered, double-paned glass with UV shield plus it is then surrounded by stainless steel making it look stylish on the outside.
It's got rubberized shelves with decked out wood accents for easy gliding and secure placing and removal of your wine bottles. Its energy efficient, has LED lighting, versatile display from Celsius to F, and an ergonomic pole handle.
This unit should be on top of your list if you want to keep more bottles of wine but have very little space.
---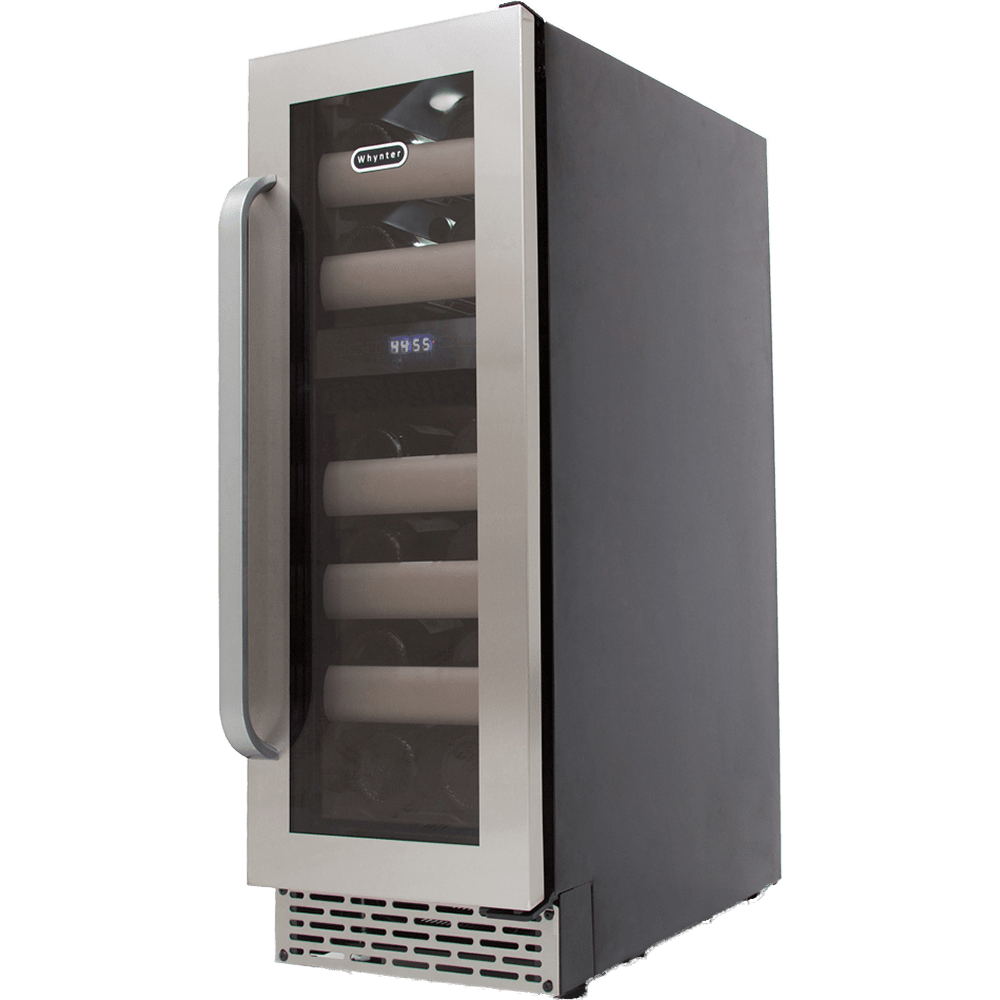 Dimensions: 34.5 H x 12 W x 23 D in.
Think a narrow wine cooler that can only accommodate 17 bottles can't have dual zones? Well, they actually can.
Presenting the Whynter Elite 17 Bottle Dual Zone Wine Cooler, that's enough for space for just the right amount on wine bottles you may segregate for red and white wines.
You will have upper zone capacity of 6 bottles ideal for white wines and lower zone capacity of 11 bottles ideal for red wines with a temperature range of 41 to 50 degrees F and 50 to 72 degrees F respectively.
It's got an open door warning system, temperature memory function to aid during power outages, and Sabbath mode too. The unit's got soft white lighting (LED) and this wine cooler is also eco-friendly.
It will be insulated by a double-paned tempered gray smoked glass door with enhanced UV protection. The ergonomic handle looks rather luxurious that puts a nice accent to a very stylish and space efficient compressor type cooler.
Most people find 7 bottles too few while others find 30+ bottles a lot. So we actually think that 17 bottles is just right amount to keep cool and ready. The dual zone capacity should be the ultimate selling point for this unit.
---
Dimensions: 34 H x 12 W x 23 D in.
The Smith & Hanks 19 Bottle Single Zone Wine Cooler promises consistent storage with a range in temperature of 41 to 72 degrees F. The brand assures that your favorite drink will be served just as you prefer.
The first thing we would like to point out is how easy this unit is to install. Not only that it's got a narrow 12 inch width but it's got a reversible swing door that will give you lots of options even in inconvenient areas so you can, in turn, make use of it.
Once again, the patented air management system of the brand makes sure that the cool air circulates efficiently and the humidity is always kept in check. By this, you are sure that the corks on your wine bottles won't dry up.
It's got a double-paned, UV shielded, and tempered glass door that does functions as an insulator and the energy saver component for this unit too.
This unit has a digital thermostat, accented by wooden shelves, Led lighting, and stainless steel styling.
---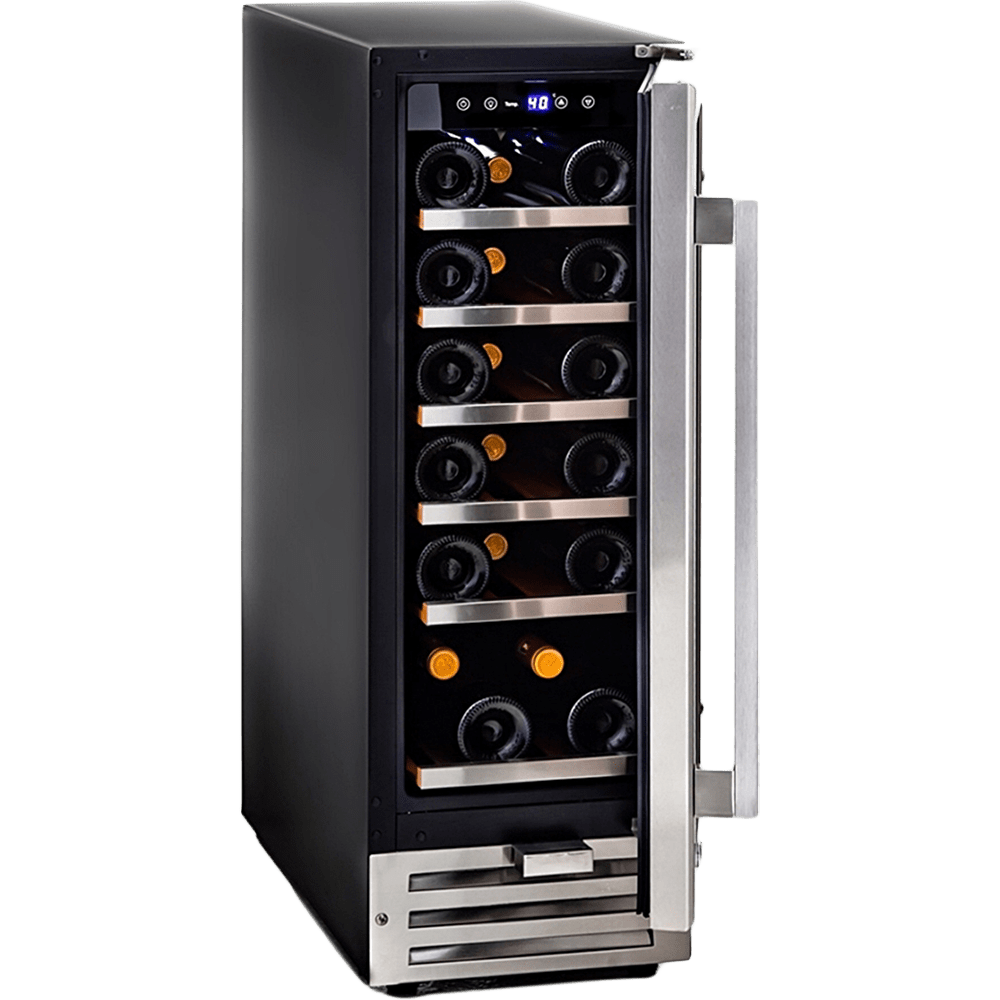 Dimensions: 34.5 H x 12 W x 22.5 D in.
We're halfway through our best narrow wine fridge review and up next is the Whynter 18 Bottle Built-In Wine Cooler. It's slim, it's sleek, it's stylish, but most of all, it's functional.
One of the most versatile units on our list, it's only 12 inches in terms of width and it will surely just blend right in the aesthetics of any kitchen design. It's got a stylish stainless steel trimmed door that's armed with an L-bar handle that's fully ergonomic.
At 18 bottles capacity, this wine cooler is pretty versatile for it can be a freestanding unit or a built-in to your cabinet.  It's got front exhaustion ventilation so it's ideal to be installed right on the floor with very little clearance necessary on any of its sides.
It's got a right swing door that can fit right in on any space too. This too is a compressor type cooling machine and will distribute temperature evenly. It even comes with a humidity control tray to make sure everything inside won't go dry.
In terms of temperature range, this unit can go from 40 degrees F to 72 degrees F making it one of the most versatile units from our list. It can accommodate red wine, white wine, and even sparkling wine.
As usual, the door is covered by a UV shielded, double-paned tempered glass with a smoke gray tint. This ain't just all style but also to make sure that the temperature inside stays at desirable levels.
It's got an LED digital temperature control reading at both Celsius and Fahrenheit for precise measurements. Soft LED interior lighting, six removable wooden shelves that's easy to slide, security lock, activated carbon filter, and an auto-defrost feature to help with maintenance.
Talk about one innovative unit, right?
---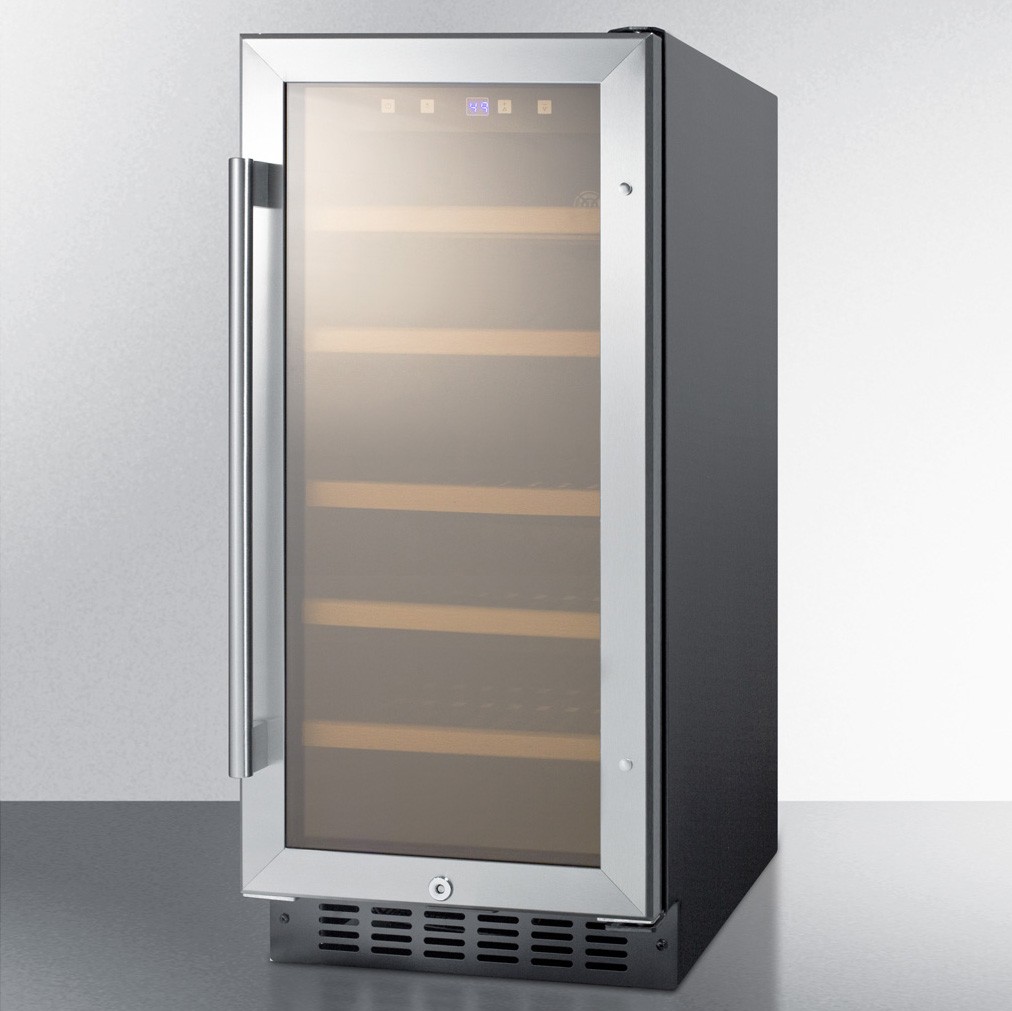 Dimensions: 31.5 H x 14.75 W x 23.5 D in.
This next unit also yields one of the most bottles per inch of width ratio. We're talking about the Summit 23 Bottle Wine Cooler.
This ADA compliant wine cooler clocks in at only 15 inches of width (32 inches height) but can accommodate 23 bottles of your red and white wines.
It's an elegant stainless steel all over that makes it look stylish and will definitely blend right in your kitchen or any desired space for installation. Its matte black exterior adds additional elegance to the overall unit.
It's got five wooden shelves with a classic look giving the interior a sleek look too. The shelves got a smooth glide in them for easy access to your favorite bottle. The LED lighting would make sure to light it up too whenever necessary.
The door is of course, double paned tempered glass with a stainless steel trim. The right angle cord, sealed back, integrated hinge, and reversible door makes it easier for you to install it on the area you desire. It's then accented by an ergonomic handle.
This chic designed unit has an automatic defrost feature to make it easier to maintain and clean later on. It's got a digital thermostat, Sabbath mode setting to disable light and alarm that can be setup for 96 hours.
And of course, it's got an open door alarm and high temperature alarm features for safety purposes, and its flush back makes it easier for you to install it against the wall. Its temperature range is at 41 to 64 degrees F.
---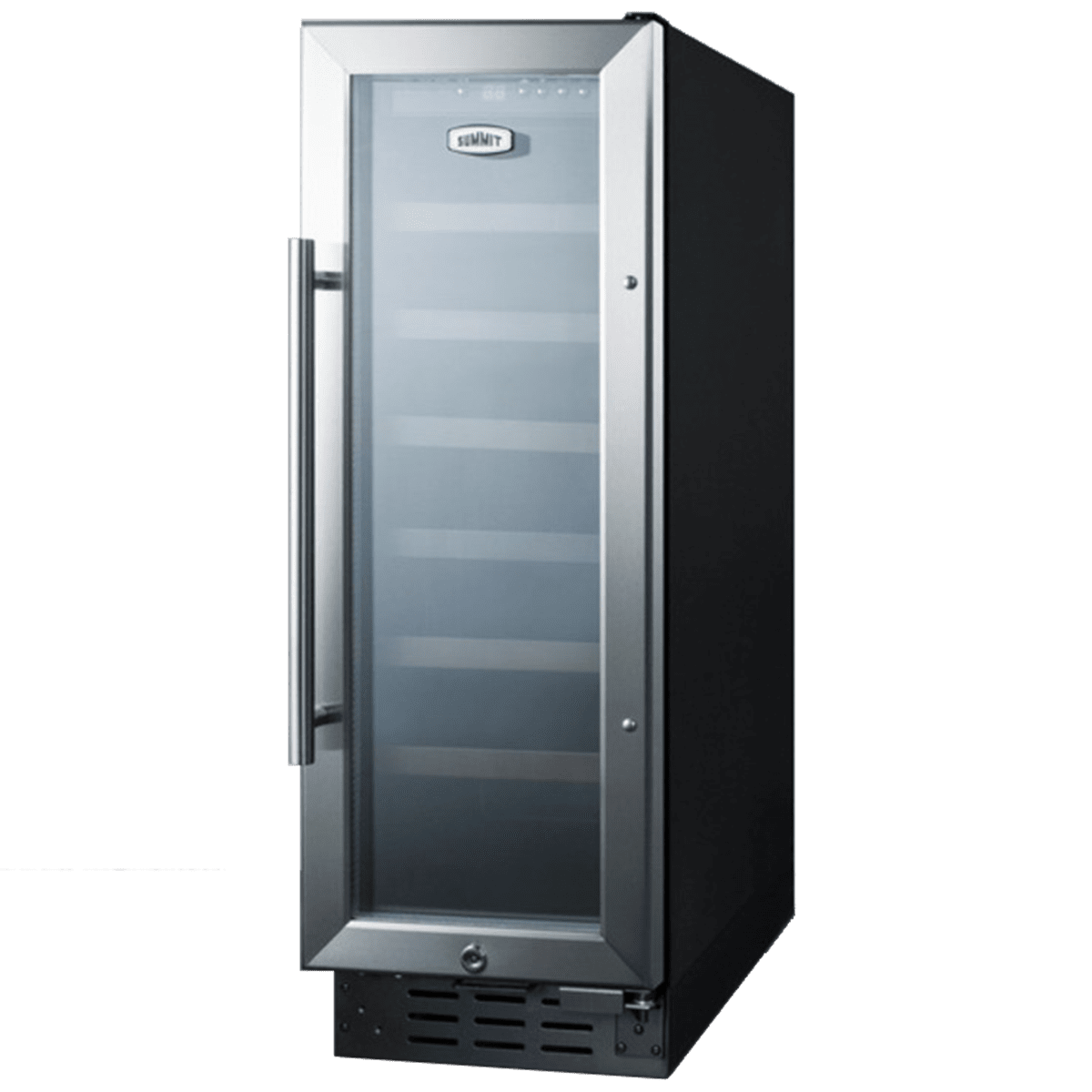 Dimensions: 34.38 H x 11.88 W x 22.38 D in.
The penultimate entry on our best narrow wine fridge review is no other than the SUMMIT 21 Bottle Wine Cooler. This is an under-counter wine cooler that will fit nicely in any space you desire to install it in.
At only 12 inches wide, it can be installed in any cabinet space or can just go freestanding. It's got a digital thermostat and comes with six beautifully designed wooden shelves that as the name implies can store 21 bottles of your favorite wine.
The glass door is stainless steel trimmed, is fully reversible, and accented by its ergonomic handle. It's then infused with a factory installed lock.
Its thermostat will make sure that the temperature is precise and that you may accurately control it to your liking. The LED lighting makes sure to add to its overall functionality.
What's more is that this unit has slotted cellar floor plus shelving for more storage room. It's commercially approved, comes with an auto-defrost feature for ease of maintenance and cleaning and most of all it is energy efficient.
This is one of the best looking wine cooler from our list so be sure to check it out.
---
Dimensions: 31.2 H x 9.9 W x 17.7 D in.
The last entry on our review for this article is the popular and affordable Nutrichef Refrigerator White & Red Chiller Freestanding Countertop Cooler.
With just 9.9 inches in width, this is one of the narrowest unit on our list and it can accommodate a decent amount of 12 bottles of wine. That's perfect storage and chilling of your favorite liquor.
The compressor cooling technology infused in this unit makes sure that the internal temperature is precise and you can adjust it anytime to your liking. It's got Led lights and sufficient fan power to make sure that the cool air is evenly circulated.
It's definitely compact and will blend right in as a freestanding or countertop for it's a space saver and looks sleek at the same time. You will have a temperature range of 41 to 64 degrees Celsius so it can accommodate your red and white wines at the same time.
This unit is also super quiet and is built to last. It's got easy to slide out racks that will hold your beverages securely. And we need to let you know that this unit is the most affordable in our list cheaper than say a couple hundred dollars.
So, you get to enjoy the power of a compressor type wine cooler and save money at the same time.
---
Advantages of choosing a narrow wine fridge
What are the advantages of choosing a narrow wine fridge aside from the obvious ones? What's the advantage of employing a wine fridge to begin with? Does your kitchen really need it or can you afford to give up space or spend some money for it?
When is it time to buy a wine fridge?
Admit it, you tend to put your bottle of wine anywhere in the house if you can't find space for it. On the countertop, by your bedside table, dinner table, etc., and oftentimes the fridge is full so we can't cool our wine bottles and get it ready for consumption all the time.
If you do find yourself in these situations then it may be time to get your own wine fridge. A wine rack is a good option but it may not hold as much if you have a lot of bottles at the same time especially if you and other companions in the household drink wine regularly.
And then, there are the other considerations for those who have specific preferences for their wine. That would be optimum temperature, humidity, and light but at the same time still keep the flavor to its finest quality that a refrigerator which aims to preserve its content just won't do.
So, what are the advantages of a narrow wine fridge? Well, for one, it's not going to consume a lot of space but rather you can efficiently store more than enough bottles of wine in it and keep the content's integrity and flavor to your liking.
Second, most narrow wine coolers work really efficiently. Efficient in a sense that they don't waste energy so your long term costs is not going to rise significantly with it running constantly, they are usually inexpensive right on the purchase, and they are low maintenance units.
Lastly, narrow wine fridges are usually designed beautifully so they will look really good no matter which part of the house you will place them.
They are easy to move around if you need to situate them somewhere else and they add extra pizzazz to your kitchen for they will blend right in.
Beverage coolers and refrigerators just won't do, that's because your reds and whites are delicate drinks and wine cellars are not really that practical for everyone. So cool and store them right to drink them at their best even if it's for long term storage.
What's the ideal height and width of a narrow wine cooler?
Naturally, the dimensions of your wine cooler or fridge determine its capacity.
But on some instances, based on a wine cooler's interior design, smaller ones can accommodate more. But let's talk about what is generally considered as the ideal height and weight of a narrow wine cooler.
Most would agree that in terms of capacity a narrow wine bottle can accommodate around 6 to 38 wine bottles. Forty would be a stretch but depending on the design may still be considered.
A wine fridge can be tall and thin or can be long and short it depends on your available space really. But a standard narrow wine cooler may be about 30 inches in height x 5 inches in width x 20 inches in diameter.
It can go as large as 42 inches x 16 inches x 25 inches as well. Those that can accommodate about 4 bottles of wine may just not be worth it and anything less than that is considered a wine chiller. For your other considerations, let's move on to the next section.
What to look for when buying a narrow wine cooler?
Here are some of the aspects aside from size or dimensions that you should watch out for if you're looking into buying only the best narrow wine fridge.
Installation Type
The first thing you need to consider in relation to the space available at your place is how a wine cooler is installed. You have 3 options available for you, a freestanding type, countertop, or a built-in wine cooler.
A narrow wine cooler may often be a freestanding or countertop type for they are obviously smaller, easy to move around, and won't take up much space. A narrow wine cooler may easily just rest on top of your kitchen counter or situated beside any of your fixtures.
They can also be built-in wine coolers but these types since they are most likely tucked away on the floor would be ideal if they can store more bottles of wine than a typical freestanding or countertop wine cooler.
Add a little bit of flair to your kitchen's aesthetics by putting a narrow countertop or freestanding wine cooler on strategic areas. It can be super convenient too, having access to your favorite bottle right away while it's cool and flavorful.
Cooling Method
The next aspect that you need to consider is the cooling method that you want your narrow wine cooler to run on. What do we mean? This aspect determines how the unit will cool your wine bottles and we'll explain why that's important.
First, we have what we call the thermoelectric type of wine cooler. You may have noticed that we didn't list down a single thermoelectric wine cooler on our top ten but that's not any reason why you shouldn't try this type.
Usually, thermoelectric wine coolers are smaller and are not that heavy-duty. This type of unit regulates the temperature through what we call the Peltier effect.
It utilizes a tile that electric current run on to heat one side of it and cool the other. Then, it utilizes a fan or two to evenly distribute the cool temperature throughout the unit.
Because of this process, it creates the advantage of being noiseless due to the lack of any vibration and it's relatively inexpensive. But also, because exactly of this quality, most thermoelectric wine coolers can't accommodate a lot of bottles.
That's also because of the fact that this type of wine coolers does not have a very wide range of temperature capacity.
Compressor cooling is what you should consider next. As mentioned, all of the narrow wine fridges we listed above employ this kind of cooling method. That's not because it has all the advantages but we do think that it's what you deserve if you can afford it.
Compressor cooling is the OG or original cooling method employed by most wine coolers which means that the former thermoelectric type is the innovated type.
Compressor cooling employs the same process as that of your fridge so you know that it's got some power to its performance. The thing is, compressor wine cooler are tailored to fit to provide optimum temperature control, humidity, and light to your wine bottles.
But this type of system creates noise and can be expensive plus they are not that energy efficient. But, that has since changed through the years.
Nowadays, compressor types while still a bit pricey are already energy efficient and won't generate much noise. And, a major advantage of this type is that it can generate whatever your desired temperature is for your wine bottles.
Take note that thermoelectric types can only generate a temperature of about 20 degrees F lower than the external environment. So it's not ideal for warmer areas of your house or as mentioned if you plan to store lots of bottles in it.
Compressor type wine coolers, on the other hand, will have a temp range of 5 to 22 degrees Celsius much lower than what thermoelectric types can do. They are ideal for warmer areas of your house and as many bottles as your narrow wine cooler can accommodate.
They are also super heavy duty and durable hardware-wise, well, that's if you choose the right make and model. Hint? The top ten we listed above, wink!
Zones
Last but not least, you need to be mindful of the zones or cooling zones that you might want to have for your wine cooler. A standard wine cooler may have a single or dual cooling zone preferable meant for separating your red and white wines.
As you may have observed in our top ten, the more bottles a wine cooler albeit recognized as narrow can be a dual zoned unit. Naturally, those that can only accommodate a few will only have a single zone.
Red wine needs slightly elevated temperature levels while white wines need to be in the colder zone. The adjustability on each zone of a wine cooler is a big advantage for sure.
Hardware
Hardware determines how durable and trusted a wine cooler can be. You need something that will last long as this ain't a usual investment for most. You need to get the best value out of your money.
Also, you need a wine cooler that can securely lock in your bottles inside and insulate them properly. Plus, properly secured wine coolers make sure that the contents would be out of reach from curious children.
Final thoughts
You do have tons of great choices if you want to avail of only the best narrow wine fridge in the market. Make sure to take note of the qualities that you should watch out for to get the most value out of your investment.
Wine aficionados know how important wine coolers are and they are must-haves. So look into our top ten once again, we have a varied list of trusted brands and products.
Planning to keep a small collection of 10 bottles? We got you covered. More than that? Maybe 30? Sure, we got you covered as well. So, narrow down your choices (pun intended) and check it twice.
Treat yourself, add a nice piece to your kitchen design, and make sure to enjoy a freshly chilled red or white wine that's been kept at the right temperature for you to savor. Cheers!