There's nothing better than to sit back and relax after one tiring day at work with a nicely cooled wine by your hands. Whether you have a large collection of red and white wines or just keep a few bottles at any given time, wine coolers are a necessity.
Wine coolers are often designed to blend right in the aesthetics of your home and most especially in your kitchen. There are a few types of wine coolers but none of them is as space efficient and heavy-duty as a built-in or under counter wine cooler.
Here are some of the best under counter wine cooler you can take advantage of in the market today.
Why and when to choose an under counter wine cooler?
If you don't want your wine cooler to just sit on top of your kitchen counter or loiter around then a built-in or under counter wine cooler is for you. They can just be neatly tucked away after installation and you won't have to mind it anymore.
They are usually smaller units and narrowly designed and that's a major space saving advantage. If you're someone who just likes a few bottles cooled and ready then this type of wine cooler is for you.
It's also feature-packed and just a heavy-duty as the units that can handle 100+ bottles. They are usually super ergonomic and are very easy to install and maintain. Because they oftentimes come in a slim design, they are one of the best-looking units there is.
So if you have that extra cabinet space just wasting away right on your kitchen floor then grab a nice under counter wine cooler now! You'll have a few to choose from below.
Best Under Counter Wine Cooler Product Reviews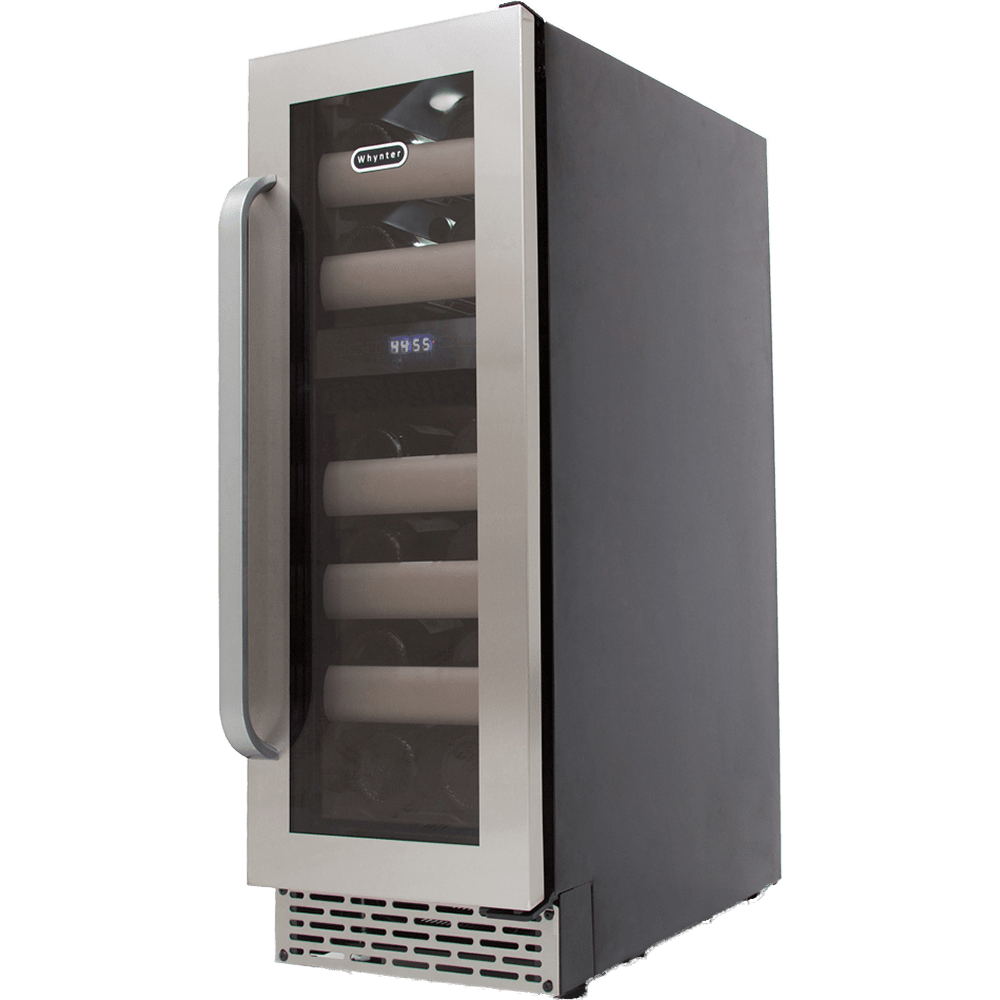 The first entry on our best under counter wine cooler review is no other than the feature-packed Whynter Elite 17 Bottle Dual Zone Wine Cooler.
You think you can't have dual zones in a less than 20 bottle capacity wine cooler? Then, you're in for a treat. This unit can only accommodate 17 bottles but you'll have an upper and lower zone.
The upper zone can handle 6 bottles that you may set up in 41 to 50 degrees F. the lower zone, on the other hand, can handle 11 bottles with a wider range of temperature of 50 to 72 degrees F ideal for red wine varieties.
It's got an all-important open door alarm system as well as a temperature memory function so it retains the temperature settings after a power outage. And, it's got Sabbath mode that lets you set it up for up to 96 hours.
The soft interior lighting gives a nice highlight to its contents adding to its aesthetic. And this compressor cooled unit is protected by the smoked, double-paned, tempered glass door. This eco-friendly unit is accented by a convenient handle and yields precise temperatures.
Definitely one of the most innovative units from our review if you find yourself drinking a wide variety of spirits then this is the wine cooler for you.
---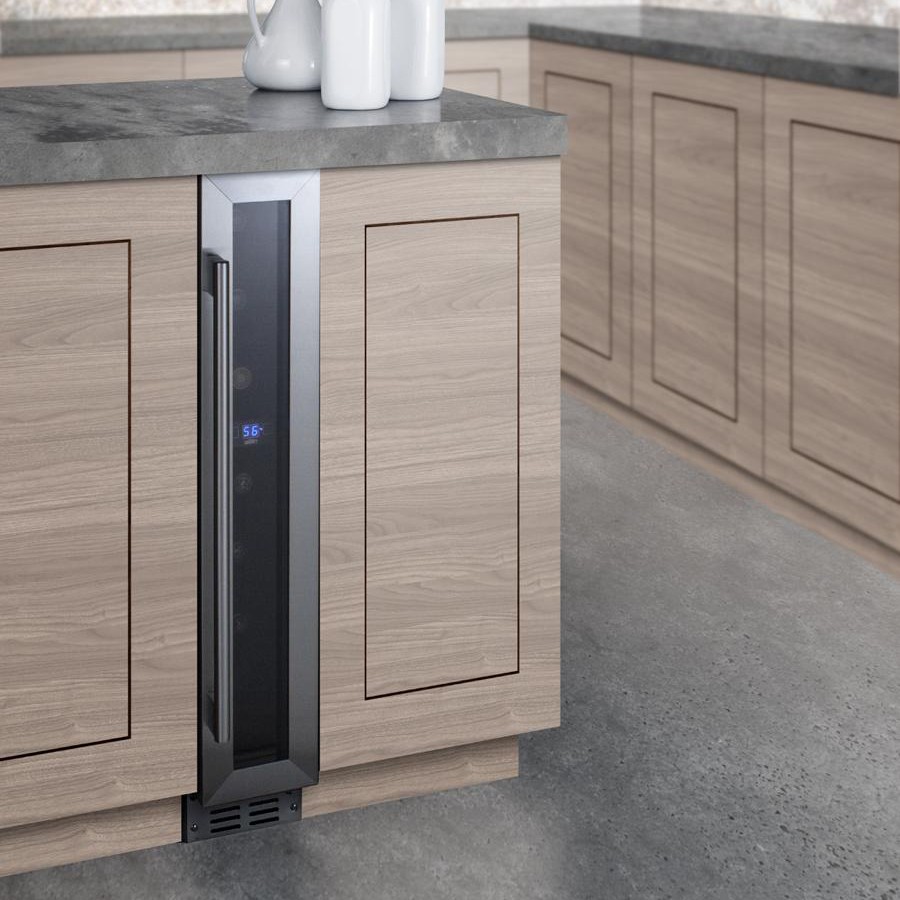 Probably the slimmest wine cooler on our list. If you just keep a few bottles at any given time and don't have much space then take a look at the sleek and efficient Summit 7 Bottle Built-In Under Counter Wine Cooler.
Clocking in at a 7 bottle capacity, it may only handle a few of your favorite liquor but if you take a look at its capacity to width ratio then it's still pretty much very space efficient. This unit looks really good and will serve as a nice accent to your kitchen space.
This unit has a front vent with stainless steel trimmed door. It's got digital controls as well as LED lighting and comes with a Sabbath mode meant to disable lights as well as alarms for 96 hours.
You will have open bottle storage as the unit is angled that you may leave uncorked wines in it with an efficient fan cooling system that will distribute that cool air evenly. This compressor cooled unit also has an open door alarm.
It's got a right angle plus and a flush back for extra space and easy cleaning. This unit is 100% CFC free and is guaranteed to be eco-friendly.
This unit is only 5.88 inches wide but is 32.25 inches tall making it ideal for a very narrow area in your kitchen that would otherwise be just wasted space.
---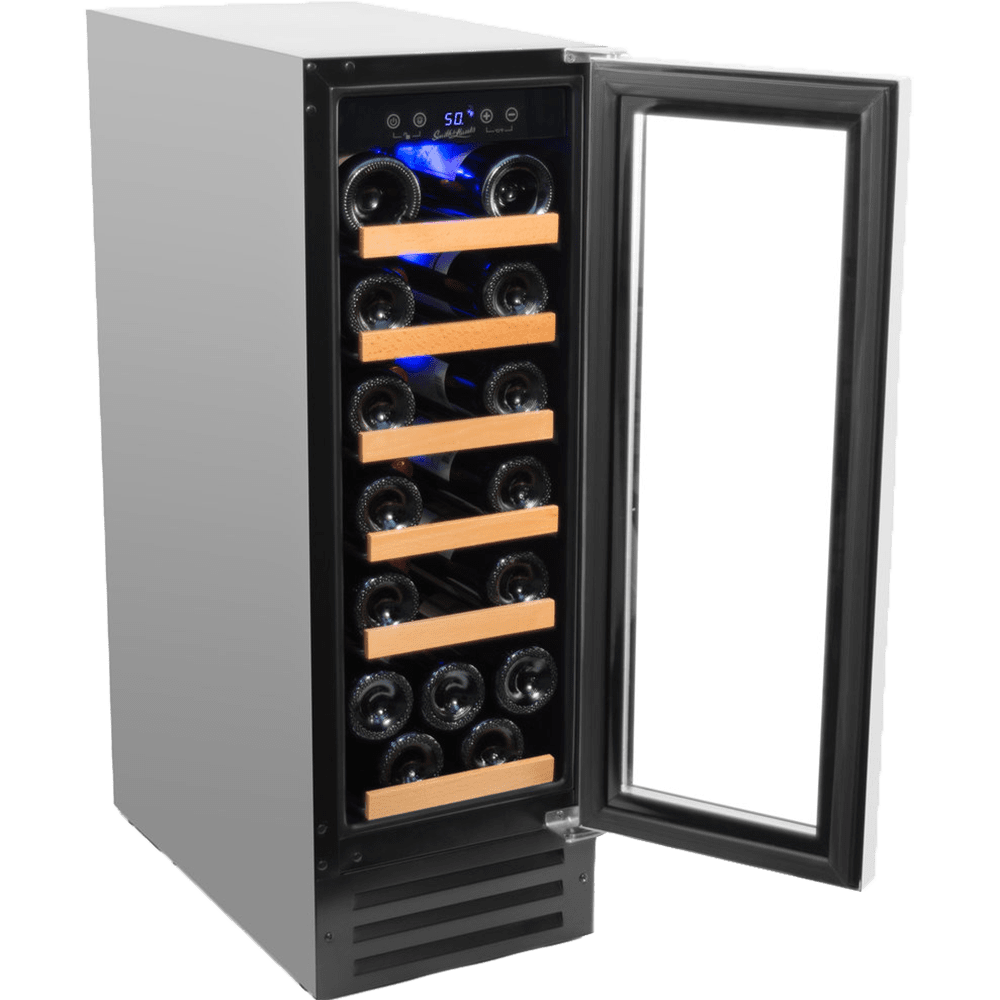 The Smith & Hanks 19 Bottle Single Zone Wine Cooler promises consistent storage with a range in temperature of 41 to 72 degrees F. The brand assures that your favorite drink will be served just as you prefer.
The first thing we would like to point out is how easy this unit is to install. Not only that it's got a narrow 12 inch width but it's got a reversible swing door that will give you lots of options even in inconvenient areas so you can, in turn, make use of it.
That quality is such a huge plus for an under counter wine cooler as it gives you the flexibility and freedom on where to tuck it away. Also, this wine cooler boasts a wide range of temperature control and precision like the best of them.
It is infused with the patented air management system of the brand that makes sure that the cool air circulates efficiently and the humidity is always kept in check. By this, you are sure that the corks on your wine bottles won't dry up.
It's got a double-paned, UV shielded, and a tempered glass door that does function as an insulator and the energy saver component for this unit too.
This unit has a digital thermostat, accented by wooden shelves, LED lighting, and stainless steel styling. It's got everything you are looking for in an under counter wine cooler.
---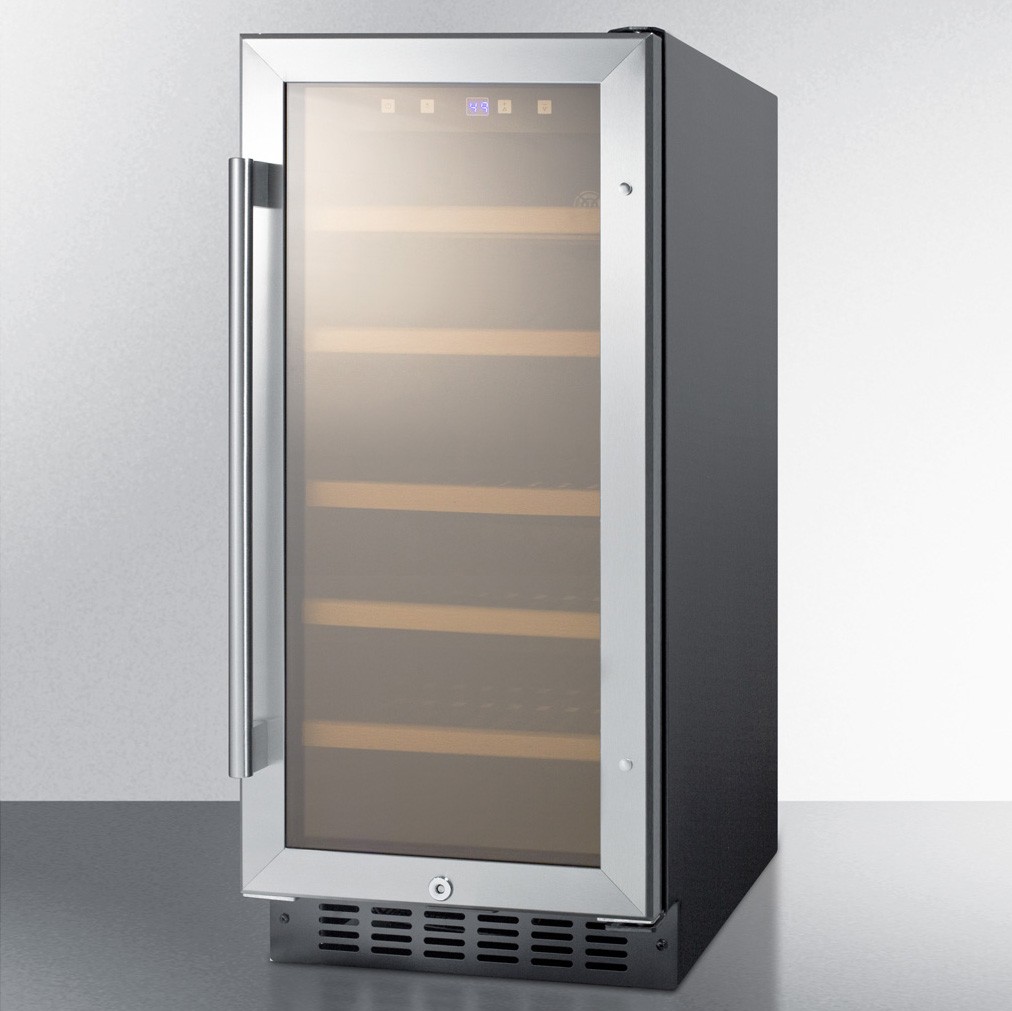 This next unit yields one of the most bottles per inch of width ratio. We're talking about the Summit 23 Bottle Wine Cooler.
This ADA compliant wine cooler clocks in at only 15 inches of width (32 inches height) but can accommodate 23 bottles of your red and white wines.
Its elegant stainless steel all over that makes it look stylish and will definitely blend right in your kitchen or any desired space for installation. Its matte black exterior adds additional elegance to the overall unit.
It's got five wooden shelves with a classic look giving the interior a sleek look too. The shelves got a smooth glide in them for easy access to your favorite bottle. The LED lighting would make sure to light it up too whenever necessary.
The door is, of course, double paned tempered glass with stainless steel trim. The right angle cord, sealed back, integrated hinge, and reversible door makes it easier for you to install it in the area you desire. It's then accented by an ergonomic handle.
This chic designed unit has an automatic defrost feature to make it easier to maintain and clean later on. It's got a digital thermostat, Sabbath mode setting to disable light, and alarm that can be set up for 96 hours.
And of course, it's got an open door alarm and high temperature alarm features for safety purposes, and its flush back makes it easier for you to install it against the wall. Its temperature range is at 41 to 64 degrees F.
---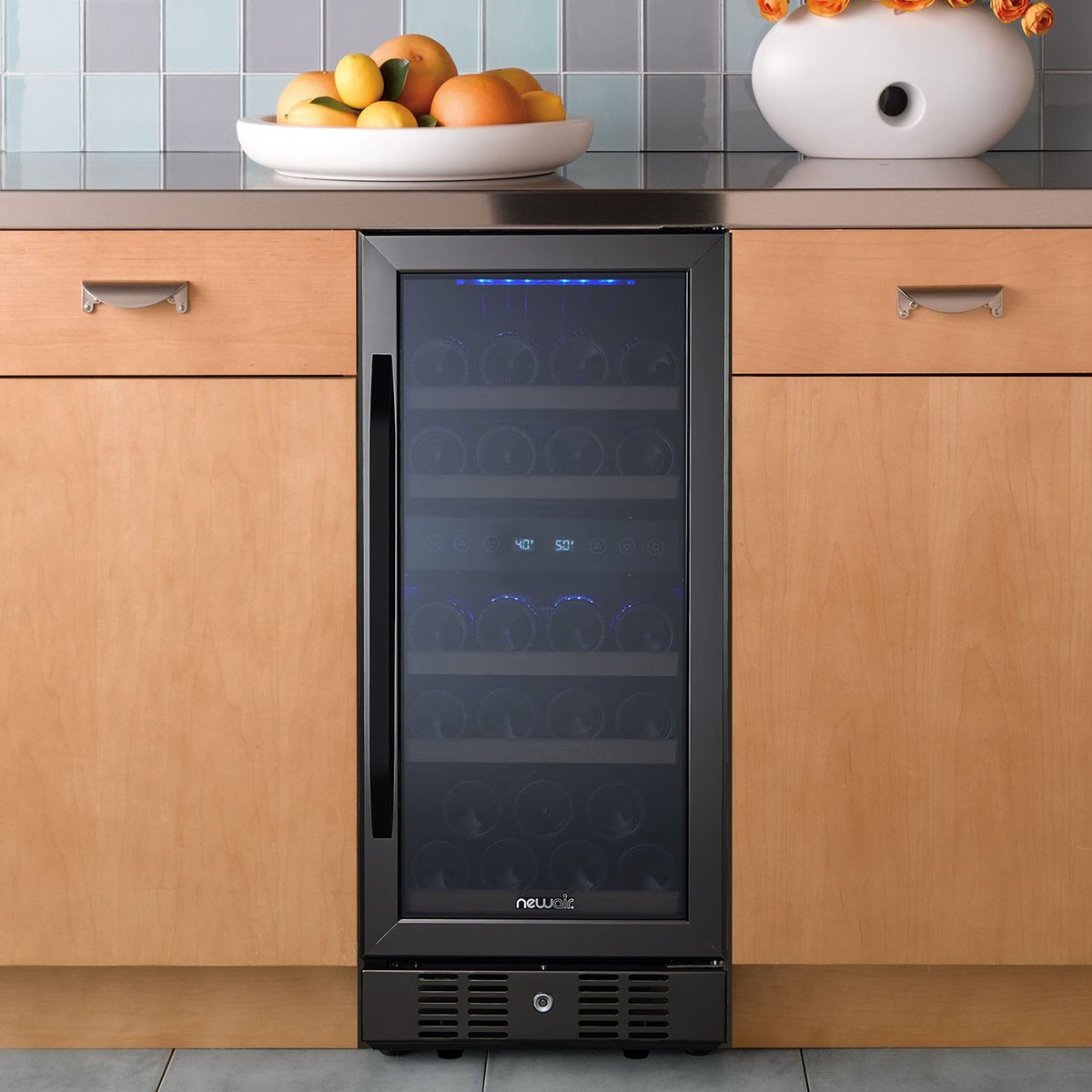 The NewAir 29 Bottle Dual Zone Compressor Wine Cooler is one of the most innovative on our list. It comes with tons of useful and state of the art features plus precise temperature control in dual zone goodness.
It's got a right swing door that's going to be convenient installation wise. And the glass door that's responsible for securing everything inside as well as making sure the temperature is in check has triple panes.
Not only that, but it's also UV shielded and its doors will not be accessed by anyone unauthorized. This unit operates on compressors but they don't make as much noise. Enjoy quiet operation and fan cooling that will evenly distribute cooled air in each of your bottles.
You will also have a digital thermostat with a nice touch button control. The upper zone can handle 40 to 50 degrees F for your whites as they need a chillier section and the lower zone can cool your red wines with a range of 50 to 66 degrees F.
This unit is also versatile in terms of installation as it can be a freestanding or built-in unit. The shelves are craftsman beech wood and are removable for easy access and maintenance. You'll have blue LED lighting that's easy on the eyes and the unit has a black stainless steel finish.
Durable and innovative, that's what this unit is all about.
---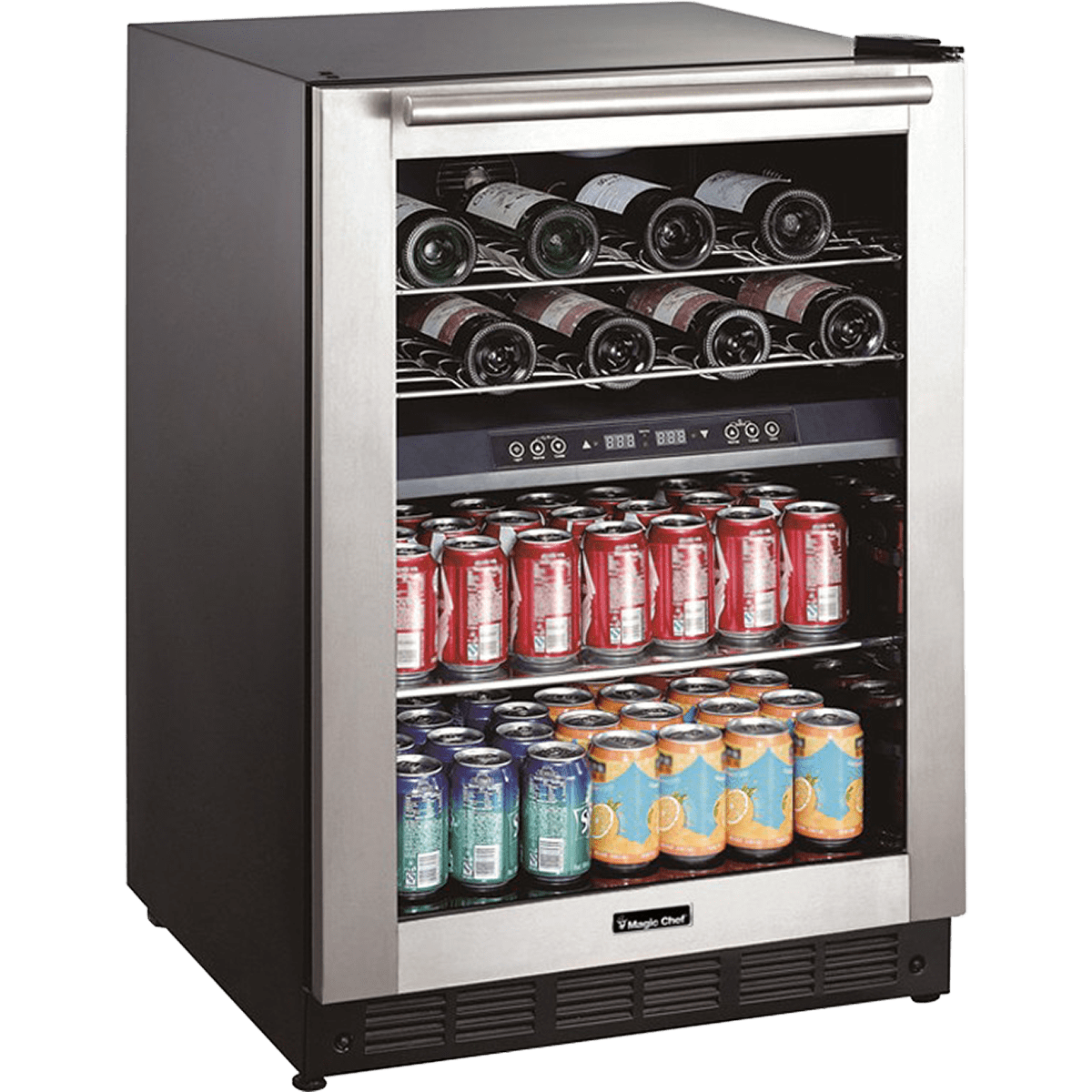 While most under counter wine coolers are built smaller make an exception for the Magic Chef Dual Zone Built-In Wine & Beverage Cooler. This wine cooler can handle       44 bottles of wine more than the rest of the units we've reviewed on this list plus 140 cans of beverage.
Well, actually there are two configurations to how you can fit stuff in. you may also set it up that in such a way it can accommodate 16 bottles of wine and 77 cans at the same time. So this unit is not only large but also gives you some versatility.
Even with its large capacity, it's still considered a slim fit for it is only 23.4 inches wide. It's got a front exhaust vent so you may utilize it as a freestanding unit or under counter. The blue LED lights are highlighted by its digital display that's easy to read.
The shelves on this unit are also made of glass and sculpted chrome and are meant for maximum flexibility as well as convenience. The dual zones are sealed to maintain precise temperature control and you never have to worry about your red and white wines losing any flavor.
---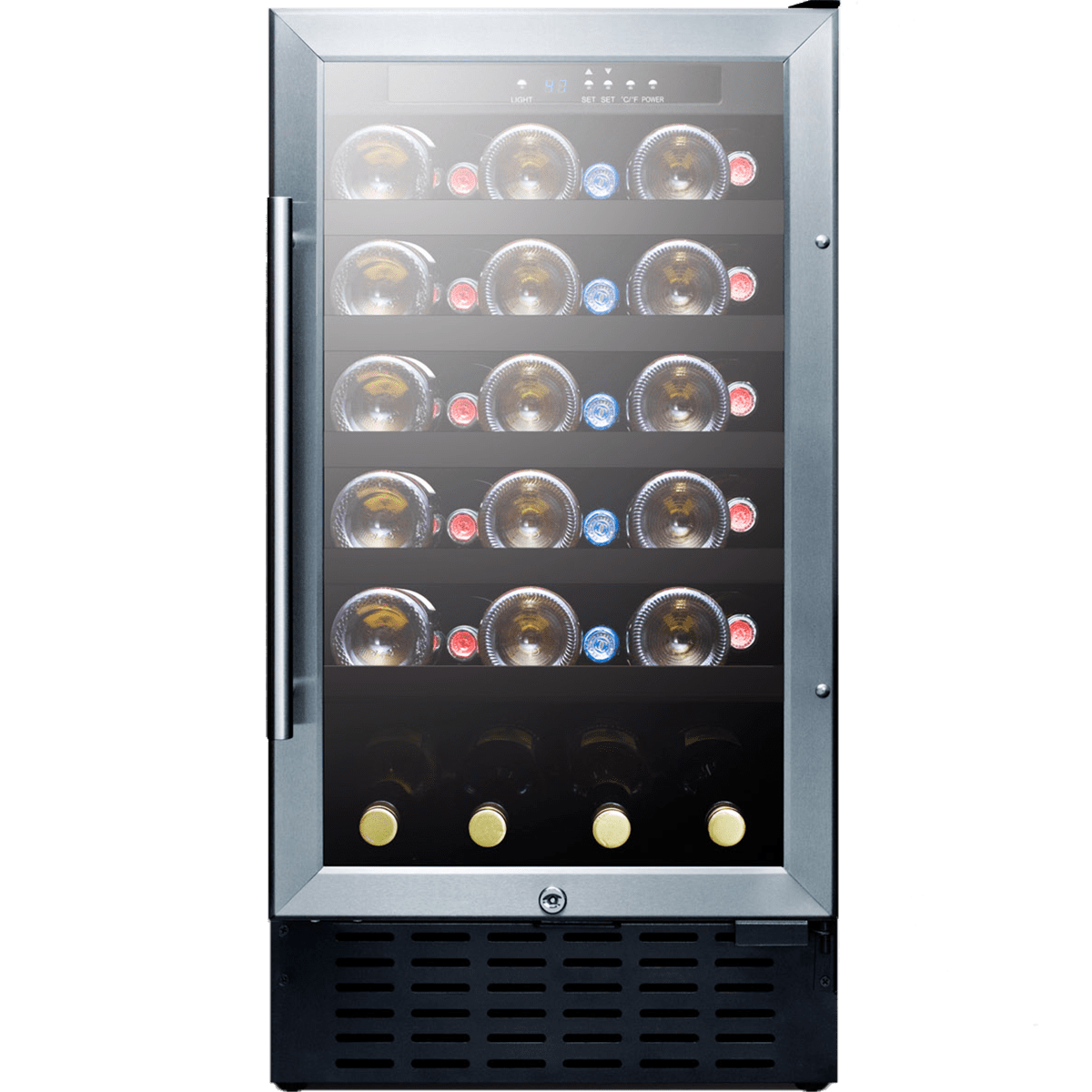 The penultimate entry on our review is the SUMMIT 34-Bottle Wine Cooler. This unit looks really good and will make it a nice add-on to your kitchen. It's ergonomically designed and will always make sure that the temperatures are precise.
It can handle Bordeaux and Burgundy bottles of wine and will have some extra slot at the bottom for some champagne. And, it's narrow enough that it only comes 18 inches wide.
The digital thermostat will always be on the job and you may set it up either in Celsius or Fahrenheit. It's got five wooden shelves, an automatic defrost feature, and elegant LED lighting.
The jet black shelving gives a nice touch to its overall aesthetic. The reversible door makes it easy to install and it's infused with an ergonomic handle as well as stainless steel trim. It's insulated securely to keep the internal temperature in check at all times.
No temperature change whatsoever with the locking and double-paned glass door. So go use that space under your kitchen and have access to a nicely cooled wine anytime.
---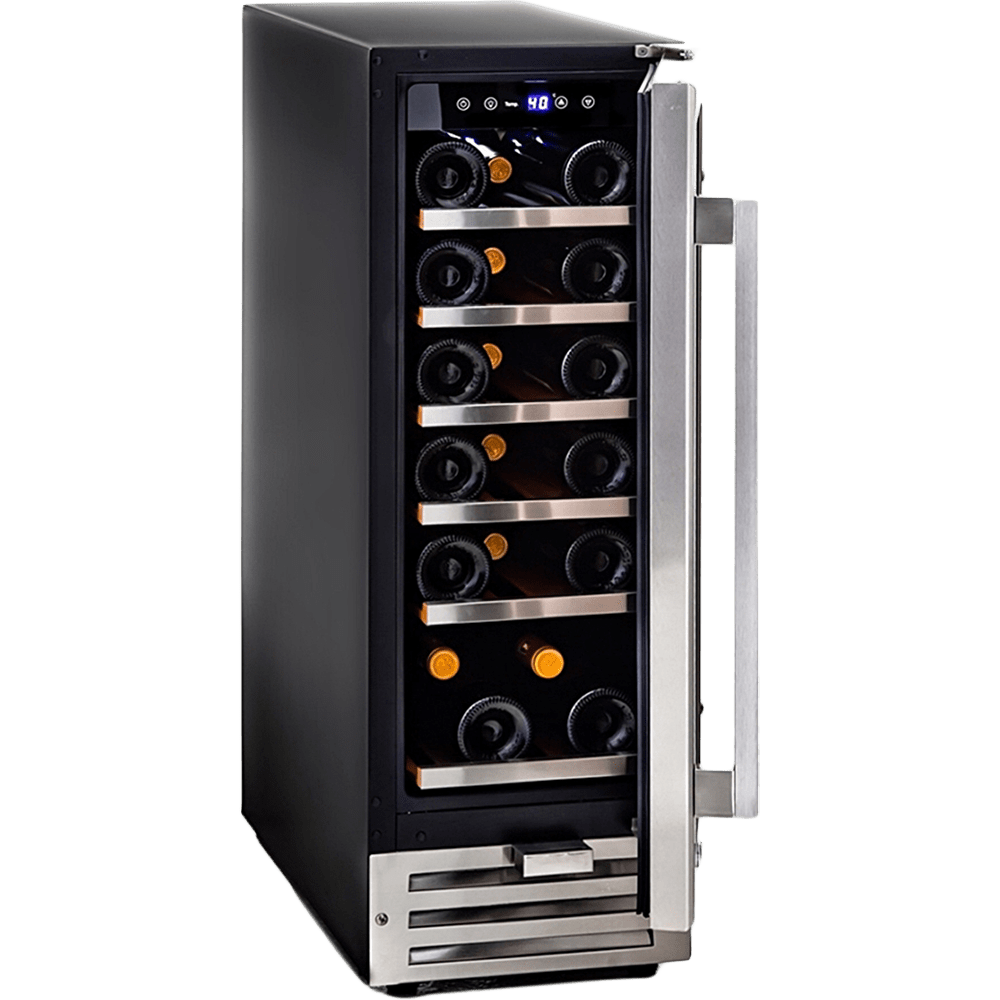 The last entry on our best under counter wine cooler is the Whynter 18 Bottle Built-In Wine Cooler. It's slim, it's sleek, it's stylish, but most of all, it's functional.
One of the most versatile units on our list, it's only 12 inches in terms of width and it will surely just blend right in with the aesthetics of any kitchen design. It's got a stylish stainless steel trimmed door that's armed with an L-bar handle that's fully ergonomic.
At 18 bottles capacity, this wine cooler is pretty versatile for it can be a freestanding unit or a built-in to your cabinet.  It's got front exhaustion ventilation so it's ideal to be installed right on the floor with very little clearance necessary on any of its sides.
It's got a right swing door that can fit right in on any space too. This too is a compressor type cooling machine and will distribute temperature evenly. It even comes with a humidity control tray to make sure everything inside won't go dry.
In terms of temperature range, this unit can go from 40 degrees F to 72 degrees F making it one of the most versatile units on our list. It can accommodate red wine, white wine, and even sparkling wine.
As usual, the door is covered by a UV shielded, double-paned tempered glass with a smoke gray tint. This ain't just all style but also to make sure that the temperature inside stays at desirable levels.
It's got an LED digital temperature control reading at both Celsius and Fahrenheit for precise measurements. Soft LED interior lighting, six removable wooden shelves that are easy to slide, security lock, activated carbon filter, and an auto-defrost feature to help with maintenance.
Talk about one innovative unit, right?
---
What to look for when buying a under counter wine cooler
Here are the important aspects to consider when shopping for your next under counter wine cooler.
Size or Capacity
It's not a coincidence that under counter wine coolers are built smaller. They typically have a lower bottle maximum capacity than say, a freestanding unit. Some freestanding units can handle over 100+ bottles but under counter units can only generally handle under 50.
It's safe to say that under counter units are meant for quick and easy access to wine as opposed to freestanding units that can be installed anywhere and can be treated as a wine cellar of some sort already.
Under counter wine coolers are for the casual drinker who just wants wine cooled and ready at any given time. But, it's got a lot of advantages too. They are oftentimes more inexpensive and easier to install. Once you've tucked them away, you don't have to mind them anymore.
They are often low maintenance units and have a front vent and require little to no clearance so they will fit right in any space on the floor. You'll definitely make use of that otherwise wasted space on the ground for sure.
They look good and stylish and will blend right into your kitchen's aesthetics seamlessly. They are also just as heavy-duty as the rest of them.
Functional and ergonomic design
As mentioned, under counter wine coolers are pretty ergonomic and functionally designed because they need to be. They need to be, as much as possible, noiseless.
When buying one, look for the ones with easy to glide shelves, great insulation, frame, and handle. Take note of its fans and vents too. It would also pay off if your unit will have a reversible door for easier installation.
The glass door is an important component that may ensure that no light can come in and damage the integrity of your wine inside. Also, a unit that can auto-regulate the internal humidity is quite nice.
Convenient features
Your wine cooler, as much as possible, needs to have a few security and convenient features at least. It should have good lighting that's adjustable and that you can turn on and off anytime you want.
A Sabbath mode feature is nice for a more energy efficient unit. And most of all, an auto-defrost feature while may not sound much is actually super important for easy maintenance and cleaning.
Also, security features like alarms or audible notification systems are nice to have. An open door alarm feature makes sure that the door won't be left wind open so the temperature inside stays precise and no energy is wasted.
Also, it would be nice to have a unit that auto-adjusts the temperature inside when it either gets a bit warmer or colder. Units that have overheating protection will give you some advantage too.
Cooling zones
You'd be surprised that even these smaller under counter wine coolers may have dual cooling zones. And they come with separate temperature control to boot.
Most units that have dual zones will most likely be units that can accommodate 20+ bottles of wine. This would make sure that you can separate your red and white wines to be served at their optimal temperature.
For those who don't know, red wine is kept at a slightly higher temperature than white wine. These units will be a bit pricey but it will all be worth it.
Wine cooler type
You have two choices in this category. You may either purchase a thermoelectric type of wine cooler or the heavy-duty compressor cooled wine cooler. And, just to remind you, what we've listed above are all compressor cooled wine coolers.
As you can see, the main difference between the two is probably their price. Thermoelectric ones are mostly cheaper than the compressor cooled units.
Thermoelectric units were created out of innovation to provide consumers a unit that's virtually noiseless, cheaper, and more energy efficient. But since then, compressor cooled types have all improved and already possess all of these qualities.
It's just a matter of commitment now. Do you really need a heavy-duty wine cooler that you want to last for a long time? Then go get a compressor type.
Final thoughts
Under counter wine coolers are best if you want to have constant access to your favorite red and white wines without having to sacrifice a lot of space and at the same time worry about any operational costs.
They are energy efficient, ergonomic, and will preserve the flavor of your liquor like no other. Refrigerators or beverage coolers just won't cut it and you deserve better.
They might come as pricey investments at first especially the compressor cooled ones but we assure you that they will last for a long time and you'll get a great return for your investment.
So pamper yourself, drink up and relax for you deserve it. Cheers!